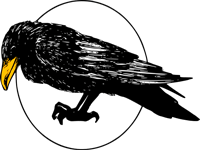 When not using appropriate camo, Alpha paints its machines a light gray which is accented by white feathers, the coloring of the Clan's totem animal.
The unit insignia of the First Raven Phalanx was a charging Elemental, set in front of a golden star.
The 6th Raven Battle Cluster's insignia has shooting stars being pursued by a Snow Raven.
The unit insignia of the Ninth Raven Striker Cluster was a white disc with a pair of avian eyes set upon it.
Insignia by: Unknown Artist/Sarna.net
Insignia vectorized by: Chaosmaster
Paint Scheme by: Canonized by Savage Coyote on 07/10/04
'Mech repainted by: jjm1
View on Sarna.net: http://www.sarna.net/wiki/Alpha_Galaxy_(Clan_Snow_Raven)
View on Camospecs.com: https://camospecs.com/unit/alpha-galaxy-13/
Original Artwork: flyingdebris for Piranha Games Inc.
Template: jjm1
Additional Template work: jjm1