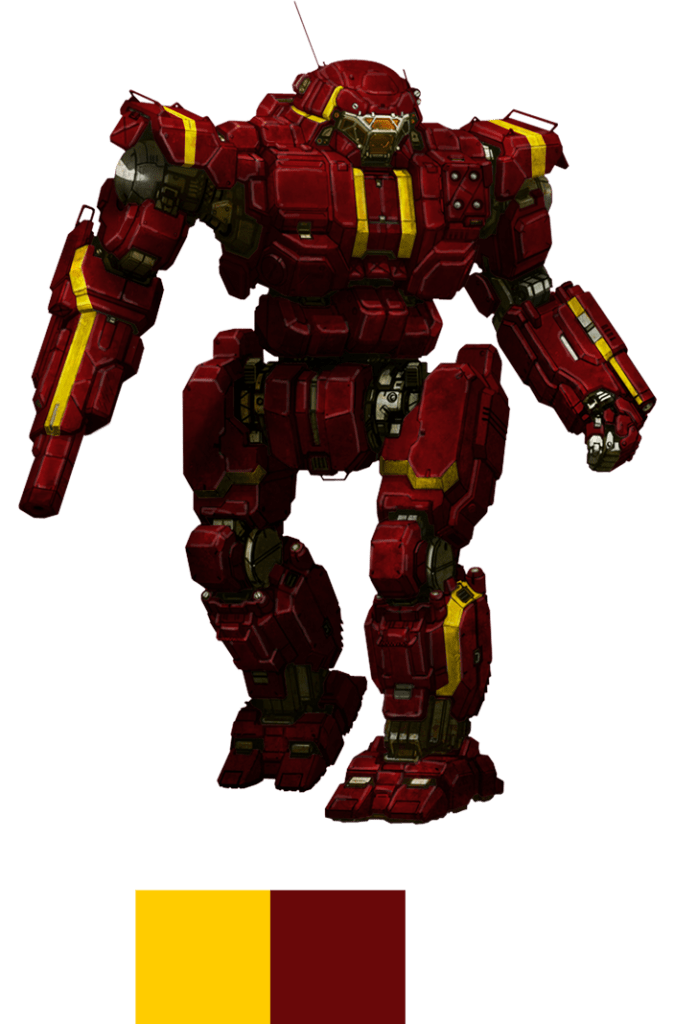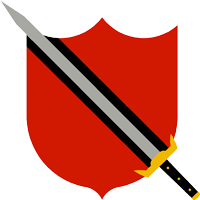 The Strikers use a dark red scheme with yellow highlights.
The Fourth's insignia is the Strikers' shield, with two rearing elephant silhouettes bracketing the sword.
The members of the Fifth Robinson Strikers paint their machines with a red and yellow paint scheme with silver accents which differs itself from rest of the Brigade. The unit's crest is the Striker sword and shield, with the long sword replaced by a tasseled cavalry saber.
Insignia by (fan-made and not canonized): Horus
Insignia vectorized by: –

Paint Scheme by: Canonized by CSO, 5-9-2012 / Field Manual: 3145, page80 (Fourth &Fifth Robinson Strikers)
'Mech repainted by: –
View on Sarna.net: http://www.sarna.net/wiki/1st_Robinson_Strikers
http://www.sarna.net/wiki/2nd_Robinson_Strikers
http://www.sarna.net/wiki/index.php?title=3rd_Robinson_Strikers&action=edit&redlink=1
http://www.sarna.net/wiki/4th_Robinson_Strikers
http://www.sarna.net/wiki/5th_Robinson_Strikers
View on Camospecs.com: https://camospecs.com/unit/1st-robinson-strikers-lct/
https://camospecs.com/unit/2nd-robinson-strikers-lct/
https://camospecs.com/unit/3rd-robinson-strikers/
https://camospecs.com/unit/4th-robinson-strikers/
https://camospecs.com/unit/5th-robinson-strikers/
Original Artwork: flyingdebris for Piranha Games Inc.
Template: Sightsonyou
Additional Template work: LegendKiller
To do: 'Mech needs to be repainted